10 Gram Umicore Gold Bar
This 10 gram Umicore brand gold bar, is perfect for the holiday season when you want to give a thoughtful and useful gift. The beauty of this bullion coin is being able to keep your wealth safe and stable, even in uncertain times.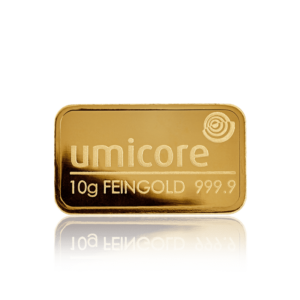 Beyond the economic benefits of bullion investing, it offers myriad non-financial advantages. For example, now that the holidays are fast approaching and you have yet to purchase a gift for your loved ones… don't fret!
This 10 gram gold bar by UMICORE is perfect for gifting or treating yourself this year! It doesn't require wrapping or batteries, and can be found right at the top of anyone's list with its sleek design and minimalist packaging. The embossed Umicore logo adds an extra touch of style to any holiday table setting as rich reds against classic white Christmas decorations. You'll truly be giving the gift that keeps on giving.
You may also choose from more variety of Umicore gold bars.